When Paul Feig and Melissa McCarthy team up, comedy magic happens.  Bridesmaids was comedy gold.  And they've even brought back Rose Byrne as Melissa's foil in Spy, as Rahna Boyanov.
The fun begins with the opening credits which spoof every James Bond film, both in look and in the music.  Melissa plays Susan Cooper, who works in the CIA basement as the the voice in the ear of super spy Bradley Fine, played by Jude Law.  The film works so well, because it has great action scenes spiked with incredibly funny laughs.  So, Susan is the ultimate Miss MoneyPenny, in love with her Bradley Fine, of course, working as his analyst as well as picking up his dry cleaning.  She hears him get shot by Rahna who gloats over killing Fine.
Rahna also boasts that she knows all the identities of the top CIA spies, so Alison Janney, the CIA director takes up Susan Cooper's offer to go track Rahna down.  And this meeting is our introduction to Jason Statham as a hilarious parody of every action hero he's ever played.  "I've swallowed enough microchips to shit a computer!"  He can't believe that Alison Janney is sending Susan into the field and not him.
I loved, loved, loved Susan's relationship with her best friend at work, the hilarious British actress Miranda Hart.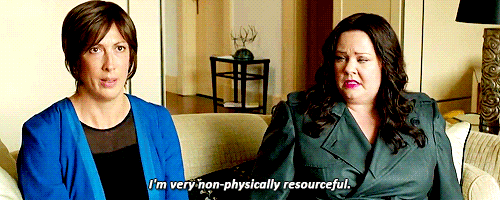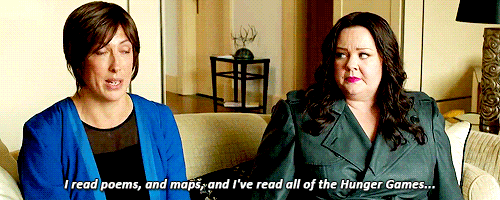 Really, that was one of the key strengths of this movie.  All the relationships between the women.  Once Susan goes undercover, in one embarrassing cat lady type get up after another, she worms her way into Rahna's company by claiming to be a bodyguard Rahna's father hired.  And then Susan and Rahna trade insults at each other for the rest of the movie, but in a very affectionate joking way.  It was wonderful.  (Rahna's hair is so big it's almost a credited cast member by itself.)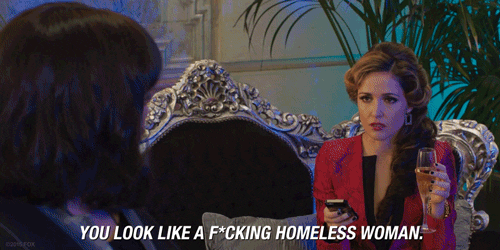 Of course Jason Statham doesn't trust Susan to be competent, and follows her, but this again is another brilliant move by writer/directer Paul Feig.  Susan is extremely competent.  The male spies, one by one, screw up, and she saves the day at every turn.  There's a big twist towards the end that I won't spoiler.  It's just a wonderful blend of great action with even better comedy.  All the actors involved looked like they had just a blast making this movie.  Highly recommend.  Four out of five stars.