Srimanthudu [Wealthy Man] is one of the better Telugu Mahesh Babu movies I have seen.  I downloaded it from Google Play and watched it on a flight (and finished up at the hotel.)   It's about a wealthy young man who goes to his ancestral village and saves the town from the evil goons running the place, as well as donating his millions to rebuild the village.   It reminded me very much of Mirchi, one of my favorite Prabhas movies, and there's a reason why.  When I looked up Srimanthudu, I discovered that Mirchi and Srimanthudu have the same writer/director:  Koratala Siva.   Mirchi, amazingly, was Siva's debut directorial feature film.  Srimanthudu was also a major hit, and with good reason.
Mahesh Babu is Harsha, son of a super wealthy business tycoon played by Jagapathi Babu, who was absolutely fantastic in the role (he won a best supporting actor award for the role.)  Mahesh Babu won the Filmfare South best actor award for his leading role in Srimanthudu.  Mahesh's love interest in the film is Charuseela – Shruti Haasan, master actor Kamal Haasan's daughter.  I was much more impressed with her here than in the Hindi film Gabbar Is Back.
If we didn't catch from the get go that this princely son of a business king wants to live as a common man, his opening number is Rama Rama.  His father won't deign to celebrate at the festival with the company employees, but Harsha (Mahesh) makes a point of making an appearance and dancing along.  He also gives money to a long time employee struggling to get his daughter married, and admonishes his father for not doing it himself.  His father despairs for him ever taking the reins of the business empire.  Harsha has no interest and mostly rejects his father's Rolls Royce lifestyle by traveling by his eco-friendly bicycle.
One of the strong points of the movie is the first half romance between Mahesh and Shruti.  He first spots her painting a Rangoli in her courtyard as he is driving his mother, aunt and sister to a temple early in the morning in the dark.  He keeps driving around the block to catch more glimpses of her until his aunt complains that they'll never make it on time.  He then meets her at his friend's birthday party, and sees that she is a kindred spirit because she takes the cake being delivered and gives it to some street children.  What really intrigues him is that Charu is in a Rural Development course following her MBA.  He's never heard of such a thing, but it appeals to him immediately.
This is where Mahesh Babu's inherent sweetness in romantic scenes shines through.  He can really pull off going from sweet shy young guy around the girl he really likes, to a tough action fighter and commanding presence against bad guys all in the same movie with ease.  Their falling in love song sequence I absolutely adored as it shows how they slowly hung around together more and more at school and it's just adorable from start to finish as their romance deepens naturally and organically.
But the twist is that Harsha has never told her exactly who he is.  Her roommates show her an article that reveals he is actually a super wealthy son of a tycoon, and she then rejects him utterly when he proposes.  His father is from her same village, the one that she is studying how to save and develop.  And with all Harsha's father's millions, Harsha's family has done nothing.  "Do you even know your village?  You have no roots."
Harsha just tells his family he will be traveling, but he goes straight to his ancestral village – by bike and bus.  His traveling montage song is the title track Srimanthuda, and it is my second favorite song in the movie.  The music in this film is really catchy and great.
Conditions in the village are horrible when he arrives.  He doesn't let anyone in the village know who he is, either, including the village leader, Charuseela's father.  But when he sees that they need a new school, he offers to donate the money needed.  And then he sees more and more projects that need doing.  He puts to use all he has learned in the rural development course.
As you can imagine, this does not sit well with the corrupt politician and his evil brother the enforcer who have run this town into the ground.  Stealing even the water needed by the farmers for their liquor factory.  There are some great action sequences as Harsha takes on all the bad guys single handedly.
Just like in Mirchi, when you go up against the rural village goons, be ready for a machete fight.  Unlike most regional films, our hero actually gets injured enough to have to be hospitalized.  Good thing he built that new hospital!  But it's a plot point to get his father back to the village, and for Charu to admit she still loves him.
Does he make his father proud?  Does he get the girl?  Does he save the village and vanquish the bad guys?  I told you this was a Telugu film at the beginning, so you know the answers, but it sure is fun to watch it all unfold.  And as an added bonus.  Mahesh in a lungi!  Hubba hubba.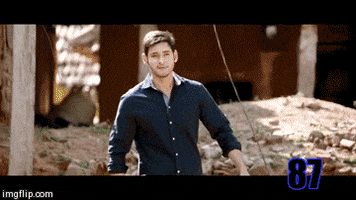 Srimanthudu is a thoroughly enjoyable all around entertainer.  Great family drama, truly evil substantial bad guys to fight, exciting action fight sequences and a terrific romance.  It's a four star out of five, and I've already rewatched it.  It has a leg up on Mirchi in one way in that I really liked that there was only one romance, rather than the fake out first one we had in Mirchi.
My husband was walking through and he noted one of the irritating things about the film.  I expect lots of slow-mo in my regional films, but this had tracking shots so many times when characters were speaking.  "The camera is always moving!", my husband noticed.  It got distracting, especially on the rewatch.  And the subtitle translations are just not the best sometimes for these Telugu films.  I have a feeling what is being literally translated to English sounds very cool and slang in Telugu, but the subtitles end up ridiculous.  "Return the money you stole or you will end up obese."  Wha???  Lost in translation there a bit.
I was intrigued to read in the wikipedia article the impact this movie had — people started adopting rural villages after seeing the film, including several celebrities and Mahesh himself.  I really liked the message of the film, that it is the responsibility of the wealthy to give back, and to bring development to these backwater rural villages.
I'm now really looking forward to the director, Koratala Siva's next film with Mohanlal and NTR, Janatha Garage, due out mid-August.